Register to become a Here To Be Danced Member
You're about to take a very important step in enhancing your life. Get ready to Let the MOVEMENT set you FREE!

Reduced Dance Prices  - Only $13 per dance. The more you dance the more you save!
Journal Page - Helps you keep track of your TranscenDance Journey.
Private Access to Recorded Classes - Let the Movement set you FREE! anytime.
Access to Private FB Group - Create accountability partners to dance at agreed upon times using the recorded archives.
The Daily Affirmation Handbook -This comprehensive handbook provides you with 365 powerful affirmation to help you manifest your desires and live the life of your dreams. Health, wealth, happiness and success.
Blank Affirmation Pages - Print these pages and write some of your favorite affirmations from the handbook on them. Hang them somewhere where you can recite them daily.
Live Your Dreams! Blueprint – 3 Keys for Manifesting Your Desires Results - Whether you're striving for professional advancement, a career transition, personal fulfillment, better relationships or better health, this blueprint is a guide to help you get there!
Discount Pricing - On future workshops and webinars.*
15% Discount - On mini coaching courses/eBooks and products offered on the website.* 
Cancel or Upgrade Anytime
* (Excludes full length coaching programs or programs/products offered by affiliates.)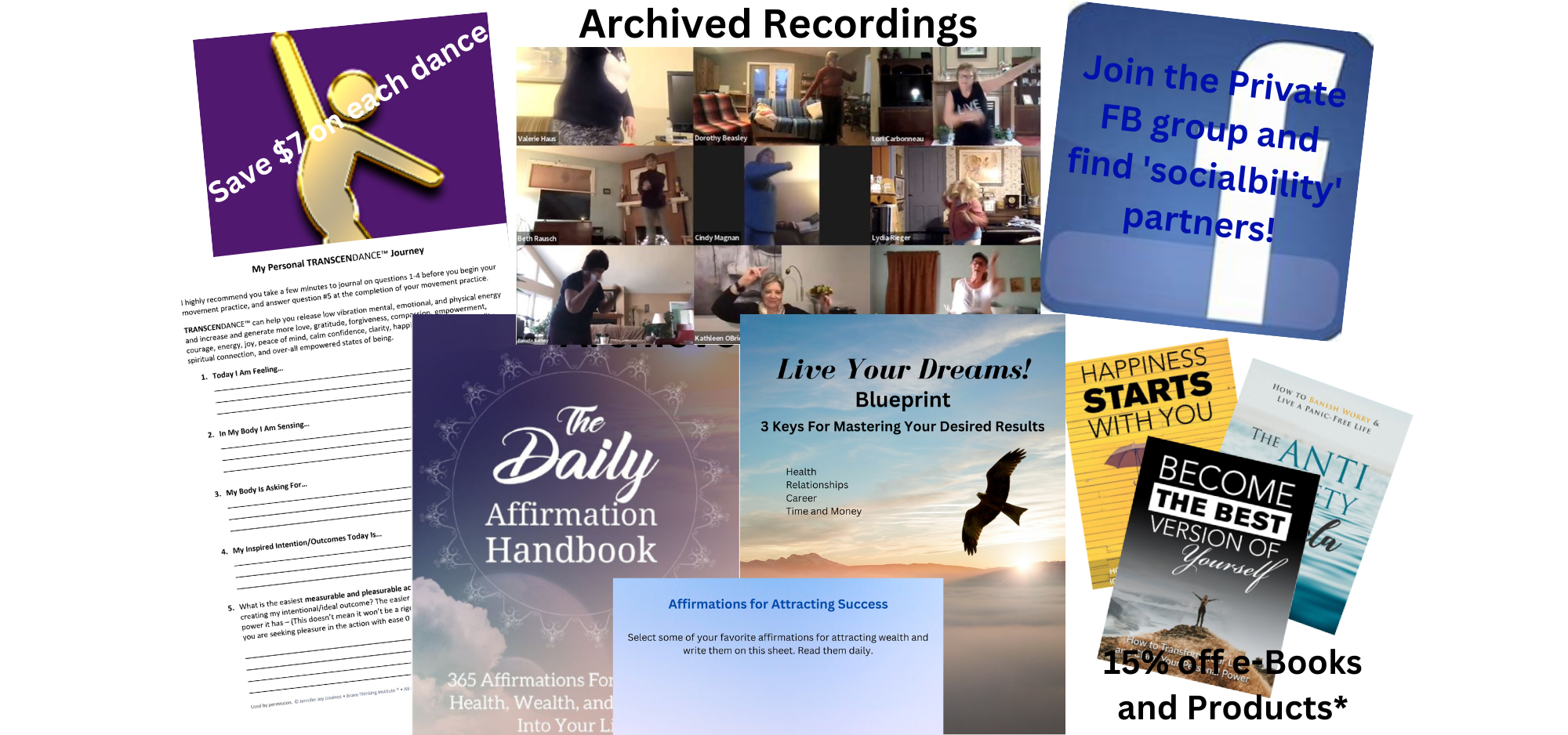 Regular Price - Just $9/Month + $13 per dance - Save $7 per dance!
Join TODAY - $5 for the first month + get 2 FREE dances!
Limited to the first 100 members!
SAVE $30
($9/month after the first month. Dance coupons will be emailed upon registration and can be used any time. No expiration.)

Receive Everything in the Golden Membership  
Dance As Many Dances As You Want - At NO additional cost!

         

     
 (3,497 Value)
One time yearly payment of just $366 - Includes at least 72 dances!
Join TODAY for just $329
Limited to the first 100 members!
SAVE $36